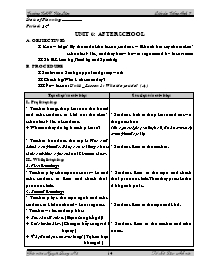 A. OBJIECTIVES:
I. Knowledge: - By the end of the lesson, students will be able to say about after-school activities, and they know how to request and invite someone
II. Skill: Listening, Reading and Speaking
B. PROCEDURE:
 I. Settlement: Setting up pair and group work
II. Checking: Who is absent today?
 III. New lesson: Unit 6_ Lesson 1 : What do you do? (A1)
Date of Planning: .................... 
Period: 32nd
UNIT 6: AFTER SCHOOL
A. OBJIECTIVES:
I. Knowledge: - By the end of the lesson, students will be able to say about after-school activities, and they know how to request and invite someone
II. Skill: Listening, Reading and Speaking
B. PROCEDURE:
	I. Settlement: Setting up pair and group work 
II. Checking: Who is absent today?
	III. New lesson: Unit 6_ Lesson 1 : What do you do? (A1) 
Teacher's activities
Students' activities
I- Pre listening:
- Teacher hangs the picture on the board and asks students to find out the after-school activities of students.
+ What are they doing in each picture?
- Teacher introduces the topic: Hoa and Minh are friends. They are talking about their activities after school. Listen to them.
II- While listening:
1. First listening:
- Teacher plays the tape once or twice and asks students to listen and check their pronunciation.
2. Second listening:
- Teacher plays the tape again and asks students to find out the advice or request.
- Teacher writes and explains:
+ You should relax. (Baûn nãn nghè ngåi)
+ Let's invite him. (Chuïng ta haîy cuìng måìi baûn áúy)
+ Why don't you come along? (Taûi sao baûn khäng tåïi)
III- Post listening:
- Teacher asks students to read the text again and answer the questions in the textbook, p.61.
- Teacher corrects students' answers.
* Model sentences:
Suggestions/ Invitations
+ Let's + Verb! (suggestion)
+ Why don't you + Verb? (advice)
- Students look at the picture and answer the questions:
(do sports/ play volleyball, do homework, meet friends, talk)
- Students listen to the teacher.
- Students listen to the tape and check their pronunciation. Then they practise the dialogue in pairs.
- Students listen to the tape and find.
- Students listen to the teacher and take notes.
- Students work in pairs, read and answer the questions.
- Students work in pairs, ask and answer the questions.
Expecting answer
a. Hoa is doing her math homework.
b. They are going to get a cold drink in the cafeteria.
c. He is in the music room.
d. He is learning to play the guitar.
e. He usually meets his friends.
f. She likes playing volleyball.
- Students copy the models.
IV- Consolidation: Write about you after-school activities.
V- Homework: Learn by heart
	 Do exercise
Date of Planning: .................... 
Period: 33rd
UNIT 6: AFTER SCHOOL
A. OBJIECTIVES:
I. Knowledge: - Students practise asking & answering about the activities at recess
	- Students can understand clearly the uses of adverbs of frequency.
II. Skill: Listening and Speaking
B. PROCEDURE:
	I. Settlement: Setting up pair and group work
II. Checking: Tell about your after- school activities (6- 8 sentences)
	III. New lesson: Unit 6_ Lesson 2 : What do you do? (A2, 4) 
Teacher's activities
Students' activities
I- Warmer:
- Teacher asks students to check the task in A2a, p.61
Expecting answer
2. Swimming (in the pool)
3. Playing computer games.
4. Going to a movies (the movies)
5. Playing soccer.
6. Watching TV.
II- Practice:
* Ask and answer (A2b):
- Teacher gives 5 cards which are written the 5 adverbs of frequency and asks students to order them in the upside down triangle.
- Teacher asks students to practise in pairs, using the frequency adverbs.
III- Pre listening: (A4)
- Teacher introduces: You are going to hear some students talk about their activities after school.
- Teacher asks students to open their books and read the name and activities.
+ to rehearse a play: táûp këch
IV- While listening:
- Teacher plays the tape twice and asks students to listen and do the matching.
- Teacher corrects students' answers.
V- Post listening:
Activity 1: Teacher asks students to make a similar dialogue, ask and answer about the activities after school.
Activity 2: Put the adverbs of frequency in the correct place.
1. How do you play sports? (often)
2. I play basketball (usually)
3. What do you do after school? (often)
4. I go out with my classmate. (usually)
- Students do the task chorally, then they copy into their notebooks.
- Students order:
Always (100 %)
Usually
Often
Sometimes
Never (0 %)
- Students practise in pairs:
S1: What do you usually after school?
S2: On Monday I always play soccer. On Tuesday I never play computer games
S1: How often do you listen to music?
S2: I always liten to music.
- Students listen to the teacher.
- Students open their books and read.
- Students listen to the tape.
- Students compare their answers with a partner.
Expecting answer
a. Mai -> go to the school cafeteria.
b. Nam -> rehearse a play.
c. Ba -> go to the circus.
d. Lan -> watch a movie.
e. Kien -> tidy the classroom.
- Students practise in pairs:
Hai: Tomorrow is Sunday. Should we meet?
Na: Good idea.
Hai: What about you, Ai?
...etc.
- Students' answers:
1. How often do you play sports?
2. I usually play basketball.
3. What do you often do after school? 
4. I usually go out with my classmate. 
IV- Consolidation: Adverbs of frequency and their posotions.
	After- school activities; "How often ......?"
V- Homework: Do exercises 1, 2 (P.33, 34)
	 Prepare A3, 5
Date of Planning: .................... 
Period: 34th
UNIT 6: AFTER SCHOOL
A. OBJIECTIVES:
I. Knowledge: Students have chance to practise reading skill.
II. Skill: Reading
B. PROCEDURE:
	I. Settlement: Setting up pair and group work
II. Checking: Do exercises 1, 2
III. New lesson: Unit 6_ Lesson 3 : What do you do? (A3, 5*) 
Teacher's activities
Students' activities
I- Warmer:
- Teacher asks students to work in groups of seven to talk about their activities after school in the seven days of the week.
II- Pre reading:
- Teacher asks students to look at the three pictures and guess the activity. 
Name
Nga
Ba
Nam
Activity
Guess
Read 
- Teacher introduces the lesson: Three students in class 7A are Nga, Ba,and Nam. Let's read the text to see what they do after school.
III- While reading:
1. First reading:
- Teacher asks students to read the text and check their predictions.
* Elicit vocabulary:
+ school anniversary celebration
Ex: Our school is 30 years old today. Today, it's our 30th school anniversary celebration.
+ president
+ comic = picture book
+ collector (n)
Ex: Ba has many stamps. He is a stamp collector.
+ sporty (adj)
Ex: I like sport very much. I always do sports in my freetime. I am very sporty.
2. Second reading:
- Teacher asks students to read the text again, ask and answer the questions in pairs.
- Teacher corrects students' answers.
IV- Post reading:
- Teacher asks students to tell about their activities after school to their friends. Teacher goes around and helps.
- Students work in groups:
Ex: S1: On Monday I often play soccer.
 S2: On Tuesday I never watch TV.
 S3: ....etc.
- Students look at the pictures and guess.
- Students listen to the teacher.
- Students read and check their predictions:
Nga: - rehearsing a play
Ba: - meeting friends and talking about stamps.
 - bringing stamps to school.
Nam: - watching videos
 - reading a library book or comics.
 - lying on the couch
- Students copy the words.
- Students read and answer, then they practise asking and answering in pairs.
Expecting answer
a. Her group is rehearsing a play for the school anniversary celebration.
b. He gets American stamps from Liz, his American friend.
c. The stamp collector's club meets on Wednesday afternoon.
d. Nam never plays games.
- Students work in pairs.
IV- Consolidation: 
V- Homework:	Write the answers into notebooks
	Read the text again
	Prepare new lesson
Date of Planning: .................... 
Period: 35th
UNIT 6: AFTER SCHOOL
A. OBJIECTIVES:
I. Knowledge: By the end of the lesson, students will be able to:
	+ Use "should" in the questions.
	+ Use the structure: "Let's + verb"
II. Skill: Reading, Speaking and Listening
B. PROCEDURE:
	I. Settlement: Setting up pair and group work
II. Checking: Who is absent today?
III. New lesson: Unit 6_ Lesson 4 : Let's go (B1) 
Teacher's activities
Students' activities
I- Revision:
- Teacher calls 3 students to go on the board and retell the after- school activities of Nga, Ba and Nam.
II- Presentation:
1. Pre teach:
* Revision:
- Teacher asks students to scan the dialogue A1 again and find out how they say when they want to advise and sugguest.
* Pre- teach vocabulary:
+ an assignment
+ (to) come
+ can ≠ can't
+ (to) relax
2. While- teach:
- Teacher asks students to listen to the dialogue between Nam, Lan, Hoa and Ba and find out the sugguestions and the responding to the sugguestions.
- Teacher plays the tape for the first time.
- Teacher plays the tape for the second time.
- Teacher corrects students' answers and gives feedback.
Sugguestions
Responding
+ What should ...?
+ What about.....?
+ Let's ......?
+ Why don't .....?
+ I'm sorry, I can't
+ OK.
+ Great.
III- Practice:
1. Pair work:
- Teacher asks students to practise in pairs, use the sugguestions and responding to the suguestions.
a. let's/ go/ school cafeteria.
b. why/ do/ homework/ together?
c. what/ play/ baseball?
d. why/ read/ comics?
e. let's/ watch/ vedio.
2. Now answer:
- Teacher asks students to read the dialogue and answer the questions on page 64.
- Students go aon the board and tell.
- Students read the dialogue and answer.
Expecting answers
+ You should relax.
+ Let's invite him.
+ Why don't you come along?
+ baìi táûp
+ âãún
+ coï thãø ≠ khäng thãø
+ nghè ngåi
- Students listen to the teacher and divide their notebooks into two columns.
Sugguestions
Responding
* First listening:
- Students listen and find the sugguestions, then they write in their notebooks.
* Second listening:
- Students listen and find the responding to the sugguestions.
- Students open their books and check their answers, then they practise reading.
- Students practise in pairs.
- Students read and answer.
Expecting answers
a. Nam wants to go to the movie.
b. Lan doesn't want to go to the movie because there aren't any good movies at the moment.
c. Lan wants to listen to some music at her house.
d. Hoa doesn't want to go to Lan's house because she has too many assignments.
e. It's Saturday.
IV. Consolidation: The sugguestions and responding to the sugguestions
V. Homework: - Write the answers into notebooks
	- Read the dialogue again
	- Prepare new lesson.
Date of Planning: .................... 
Period: 36th
UNIT 6: AFTER SCHOOL
A. OBJIECTIVES:
I. Knowledge: Students practise reading skill and get to know about activities of teenagers in America.
II. Skill: Reading, Speaking and Listening
B. PROCEDURE:
	I. Settlement: Setting up pair and group work
II. Checking: Who is absent today?
	- Making suguestions and invitations; Do exercise 3 (P.34)
III. New lesson: Unit 6_ Lesson 5 : Let's go (B1) 
Teacher's activities
Students' activities